BIOGRAPHY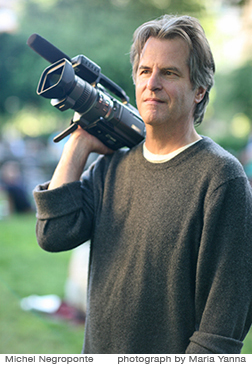 Michel Negroponte is an award winning filmmaker who has been making feature length documentaries for more than 30 years. He was born and raised in New York City, and studied filmmaking with Richard Leacock and Ed Pincus at the Massachusetts Institute of Technology in the 1970s. In addition to making his own films, he has freelanced on countless films for HBO, PBS, the BBC, and Channel Four. He has also worked with independent filmmakers like Ross McElwee, Doug Block, Lisa Crafts, D.A. Pennebaker, Chris Hegedus, Christine Choy, Dick Rogers, John Marshall and Al Maysles. His films include SPACE COAST (1979), RESIDENT EXILE (1981), SILVER VALLEY (1984), JUPITER'S WIFE (1994), NO ACCIDENT (1996), W.I.S.O.R. (2000), METHADONIA (2005) and I'M DANGEROUS WITH LOVE (2009).

JUPITER'S WIFE, a portrait of a beguiling homeless woman named Maggie, won a Special Jury Prize at the Sundance Film Festival and the prize for Best Feature Documentary at the Vancouver and the Santa Barbara Film Festivals. The film was also awarded an Emmy for Outstanding Individual Achievement in Documentary. Originally shot on small format video, it premiered on HBO/Cinemax before getting a nationwide 35mm theatrical release. Edward Guthmann of the San Francisco Chronicle called it one of the ten best films of the year. John Koch of the Boston Globe wrote, "Negroponte has a painter's eye and a novelist's reach; and if there is anything more engaging and satisfying than "Jupiter's Wife" on television or at the movies these days, by all means tell me about it."

Michel Negroponte's films have been broadcast in the United States on PBS, HBO, and the Sundance Channel as well as in England, France, Germany, Spain, and Japan. His work has been shown at the Sundance Film Festival, The New York Film Festival, and the Museum of Modern Art in New York City and in festivals in Berlin, Rotterdam, Vancouver, and Japan. In addition to his own work, he has worked in a producing capacity on many films, among them BOOKWARS by Jason Rosette, FASTPITCH by Jeremy Spear, the Academy Award-nominated CHILDREN UNDERGROUND by Edet Belzberg, and MANHATTAN, KANSAS by Tara Wray. More recently, he produced ORTHODOX STANCE, a feature documentary directed by Jason Hutt about a young religious boxer named Dmitry Salita.

Michel Negroponte has also taught in the graduate and undergraduate film programs at New York University's Tisch School of the Arts and Temple University. Recently, he helped create a new graduate program in documentary filmmaking at the School of Visual Arts in New York City, which opened in September, 2009. He is part of the faculty there as well.